Executive Director
Following graduation from Madison Central High in Richmond, KY, Brian attended and graduated magna cum laude from Western Kentucky University in 1998 with a Bachelor of Science degree in Geography specializing in City and Regional Planning/Business and Commercial and a Bachelor of Arts in Spanish.
Brian continued his education at Western Kentucky University and received his Master of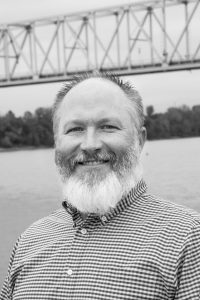 Science degree in Geography specializing in City and Regional Planning/Transportation Planning in 2001.
Brian began his planning career with the Barren River Area Development District where he completed a transportation planning internship. From there, Brian gained employment with the Columbus/Bartholomew County Planning Department in Columbus, Indiana as a planning technician where he gained experience in land use planning and census review. Brian joined the staff of the Evansville Urban Transportation Study in July of 1999 where he served as senior transportation planner until joining the Owensboro Metropolitan Planning staff in July 2004.
Brian became the Executive Director in September 2014.
Brian is a member of the American Planning Association and the Kentucky Chapter of the American Planning Association. He is also a member of AICP, the American Institute of Certified Planners, which is the American Planning Association's professional institute, providing leadership nationwide in the certification of professional planners, ethics, professional development, standards of planning and planning practice. In order to become a member of AICP, one must meet certain education and experience requirements in the planning profession and pass a written examination. After certification, continuing education requirements must be met to maintain the certification as an AICP member.
Brian is active in planning education and participates annually with the Junior Achievement organization teaching the "Our City" program at elementary schools in the community.