Inspector
Born in Kentucky but raised in Northeast Florida, Bruce Crowe has returned to his roots.  After earning his high school diploma in 1995 he became employed as an electrical apprentice in Decem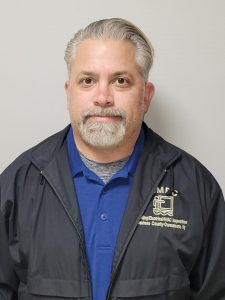 ber of 1998.  While working for an established electrical contractor in Jacksonville he attended 4 years of electrical apprenticeship classes offered by the North East Florida Builders Association and the Saint John's River Community College.  In 2003 Bruce completed the apprenticeship and passed the electrical journeyman's test for St. John's County Florida (St. Augustine) and shorty thereafter also gained his electrical journeyman's license for Duval County (Jacksonville).  He worked as an electrician in the state of Florida for 17 years until July of 2015.  In that time Bruce successfully oversaw the completion of just under 5 million dollars of electrical projects from 2003 to 2015.
Bruce arrived home to Daviess County, Kentucky in July of 2015.  After working for a local contractor and as a facility electrician at a local production facility Bruce earned his Master's electrical license for the Commonwealth of Kentucky in April of 2016.  Two more years of facility work and Bruce returned to field work in new construction to manage large electrical projects in Owensboro from 2018 to 2021.
Bruce joined the OMPC staff in February of 2021 and has successfully begun his career as a field inspector for our office.
Licensed by the Commonwealth of Kentucky for:
Electrical Inspector General

One & Two family dwellings

Level I Building Inspector